BAR EXAMINATIONS ADVISORY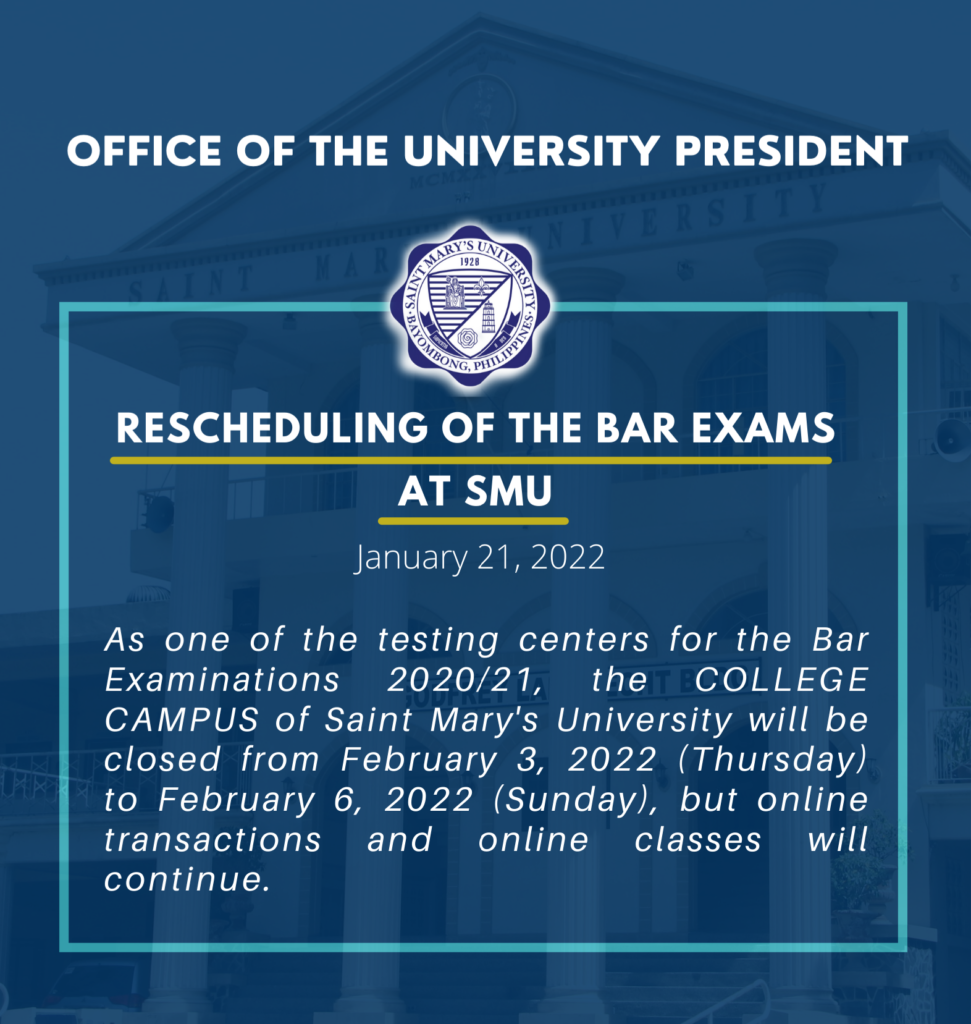 RESCHEDULING OF THE BAR EXAMINATIONS AT SAINT MARY'S UNIVERISTY AND CLOSURE OF THE COLLEGE CAMPUS FROM FEBRUARY 3, 2022 TO FEBRUARY 6, 2022
Earlier, the Office of the University President issued an Advisory informing everyone of the closure of the college campus of Saint Mary's University from January 22, 2022 (Saturday) to January 25, 2022 (Tuesday) to pave the way for the conduct of the 2022 Bar Examinations. As reflected therein, only the persons authorized by the Supreme Court following the Memorandum of Agreement will be allowed entry into the campus.
However, on January 14, 2022, Associate Justice Marvic M. Leonon of the Supreme Court issued BAR BULLETIN NO. 22, S. 2022 RESCHEDULING the Bar Examinations to February 4, 2022, Friday; and February 6, 2022, Sunday. The reasons are the increase in infection rate and critical quarantine situation of many bar examinees and personnel.
With this, therefore, the earlier Advisory issued is adjusted accordingly, and the college campus shall be closed from February 3, 2022 (Thursday) to February 6, 2022 (Sunday). The other proviso of the Advisory earlier issued are herein adopted and therefore shall equally apply on the dates as mentioned.
For everyone's strict compliance and information.