The Junior High School Program of Saint Mary's University (SMU) has again been granted a Level II Re-Accreditation Status  by the  Philippine Accrediting Association of Schools, Colleges and Universities (PAASCU). The five-year re-accreditation is from December 2016 until November 2021.
Dr. Henry C. Navarro, Principal of the SMU Junior High School Department said that this is a clean slate for them after having been re-accredited last September 2011 which was valid until 2016.
The Junior High School Program was first accredited in 1988.  Its accreditation was upgraded as Level II in 1996,  was re-accredited in 1999, and again re-accredited in 2005.
PAASCU has found the Junior High School Program meeting high standards in  the areas of faculty, curriculum and instruction, library, student services, administration, and school and community.
Among the benefits of a Level II accreditation which is enjoyed by SMU are "Full curricular autonomy, i.e. authority to modify the curriculum without DepED approval provided that the minimum requirements and guidelines are complied with and the modified curriculum is an enriched version of the 2002 Basic Education Curriculum and is submitted to DepED Regional Offices" and "Priority in the awards of grants/subsidies from DepED for student scholarships, e.g. the Educational Contracting Scheme, scholarships for faculty development and funding assistance for other development programs"  as indicated in the DepEd Order No. 32, s. 2006.
The members of the PAASCU Team who evaluated the   SMU Junior High School Program last October 3-4, 2017 were: Dr. Maximo Muldong, Vice President for Academic Affairs of La Consolacion College Manila; Mr. Wilfredo Abrillo, Vice Principal of the Junior High School Department of San Beda College-Alabang; Ms. Gerlie Guia, Academic Coordinator of Holy Spirit School;
Ms. Elena Lalisan,  Librarian of St. Mary's College-Quezon City;
Mr. Lorenzo Bunyi Jr., Vice Principal of Aquinas School;
Ms. Imelda Carmona, Director of the Office of Student Services of Marist School; and
Ms. Heidi Marie Padua, Liberal Arts Unit Coordinator of De La Salle-Santiago Zobel School BRAFEL Night High School.
 PAASCU representative was Ms. Jane Martinez.
With this accreditation, SMU gears toward more improvements in its academic programs. #(with reports from Junior High School Department)
Watch Now – Launch of SMU's Emblems
Recent News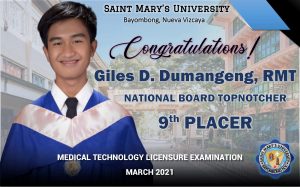 Please follow and like us: