SMU PRODUCES NAT'L TOPNOTCHER IN MARCH 2021 MED TECH BOARD EXAM
The Top 9 in the March 2021 Medical Technolog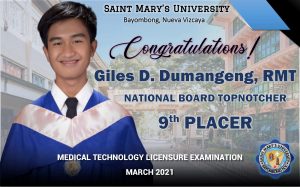 y Licensure Examination (MTLE) is from Saint Mary's University.
With an average of 86.90 percent, Mr. Giles Dinamling Dumangeng, BMLS Batch 2019 August graduate, joined other successful examinees from prestigious universities in the country in the topnotch list. 
A total of 1,921 examinees out of the 3,251 exam takers passed the licensure exam for medical technologists, which registered a 59.08% national passing rate. This was announced by the Professional Regulations Commission on March 25, 2021, a few days after the licensure examination was administered. 
Dumangeng, who hails from Didipio, Kasibu, Nueva Vizcaya, is the third of four children of Mr. David B. Dumangeng and Mrs. Janelyn Dinamling-Dumangeng. 
Like other students, he said that he also experienced difficulties. He said that most of his academic struggles were associated with having incomplete (INC) marks in some of his major subjects, combined by the difficulty of catching up his review classes while on internship.  The greatest struggle came when he suffered from depression for the loss of his brother who met an accident. 
"As in yon mga grades ko po ay bumaba dahil nabawasan yon enjoyment ko sa pag-aaral," he said. 
When asked about his preparations for the board exam, Dumangeng mentioned that his laboratory training in SMU contributed a lot in his journey to the topnotch list. He also added that having good study habits would help a student accumulate and recall little bits of knowledge during an exam. "Kung may masasabi man akong main factor sa pagto-top ko, siguro po ay pag-aaral ng maayos sa college pa lang. Kasi pag naaappreciate at naiintindihan mo ang inaaral mo habang student ka pa lang, nag-aacumulate yon at nadadala mo yon kahit saan ka magpunta, at magpapakita yon sa review at maaalala mo kapag nasa mismong board exam ka na," he said. 
When asked about his ultimate tip for future exam takers, he shared, "pag-aralan mabuti ang MT subjects at i-appreciate ang process ng pag-aaral." 
Dr. Arlene L. Tabaquero, the dean of the School of Health and Natural Sciences, said that she was really happy that a positive news came out despite the academic challenges and limitations posed by the COVID-19 pandemic. Like other licensure exams at the beginning of the pandemic, the schedule of the MTLE had also been put on hold to comply with safety protocols. Thinking about the possibility that the exam takers might lose their focus on the exam due to the delay in the schedule, Dr. Tabaquero and Mrs. Shiela M. Ramos, the department head of the Medical Laboratory Science program, strategized in monitoring the exam takers and extended additional review assistance. 
"I am really very happy upon knowing that Mr. Giles Dumangeng landed as top 9 in the March 2021 MTLE. Since day one that I stepped in as the Dean of SHaNS, I have written in my notes that the top priority is to have high passing rates in board exams and to produce national board topnotchers. And here it is! The MedTech Department brought in this school year SMU's very first national topnotcher for MedTech. May this very good news inspire our students to give their very best in the board exams," Dr. Tabaquero said.
Along with Dumangeng, the other 20 MTLE passers include:
1. Alesna, Francis Iritan
2. Balansi, Marinet Pongngoc
3. Barlongo, Jewel Rain Sadueste
4. Bucad, Glyzel Ann
5. Chulwa, Leimart Wed-ang
6. Dela Cruz, Cristine Taberna
7. Dumelod, Jem Marri Peralta
8. Galotia, John Renier Guinid
9. Llantada, Jeian Adlaine Ramento
10. Lucero, Sharlee Mae Olalde
11. Mangaccat, Krizelle Tayaban
12. Maurera, Shania Tyn Urban
13. Modesto, Aubrey Quintos
14. Montemayor, Kishelle Claire Palecpec
15. Padrigo, Remalene Sinagusi
16. Pinto, Rocelle Barit
17. Saludares, Alice Alvarado
18. Saquing, Ann Margaret Ramel
19. Tobias, Christian Paul Bello
20. Viernes, Princes Petras