Tourism Student Champs Regional JTHMAP Impromptu Speaking Competition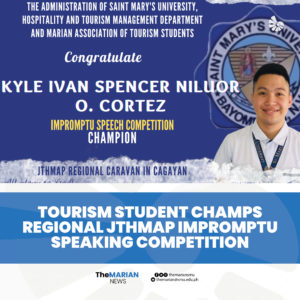 Besting contestants from Higher Education Institutions in Cagayan Valley, Saint Mary's University (SMU) BS Tourism Management (BSTM) 3 student Kyle Ivan Spencer Niluor O. Cortez won 1st place in a virtual impromptu speaking competition during the Junior Tourism and Hospitality Management Association of the Philippines (JTHMAP) Regional Caravan on May 30, 2021.
Ivan and five other participants were given different topics on social issues. As the fifth speaker, Cortez was given the topic on the biggest challenge the tourism sector is currently facing amidst the COVID-19 pandemic.
"It has been an overwhelming feeling; it has been a comforting sense that I have [the] Marian community to support and encourage [me] to compete, [and] to bring the flag of the Hospitality and Tourism Department [and] Saint Mary's University which gave me the chance to compete and excel," Cortez said.
Moreover, Cortez said that part of his preparation was recalling what he learned in his lessons as a BSTM student and also the workshop he was part of as a delegate of SMU.
"Being able to represent SMU is such a great honor, not only by giving pride to our Alma Matter but also by showcasing the skills and capabilities garnered from the university," he added.
Additionally, the third-year student was invited for an inspirational message to the general assembly and induction of upcoming officers of Polytechnic University of the Philippines Open University System – Tourism Society yesterday, June 5.
Report by Zhein Carlo Molina
Watch Now – Launch of SMU's Emblems
Recent News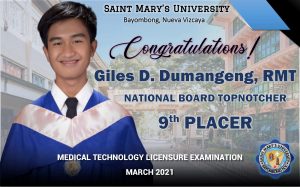 Please follow and like us: