Marian beauty queens seize Bb. Bayombong 2023 stage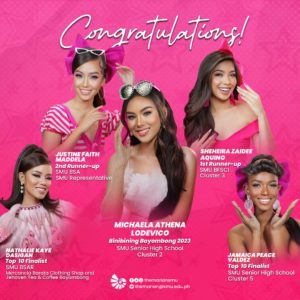 Owning the stage of Binibining Bayombong 2023, Marian students took center stage and proved that beauty transcends outside the campus, as they brought wit and finesse during the celebration of the municipality's fourth Bayongyong Festival on Saturday evening, August 5, 2023.
Among the 20 candidates vying for the crown, five Marians stood out, with three of them clinching the top crowns.
Michaela Athena Lodevico, a Senior High School student from Saint Mary's University (SMU) who represented Cluster 2, outshone 19 other Binibinis, securing the title of Binibining Bayombong 2023 and is set to represent the municipality in the province's Ammungan Festival.
Trailing behind Lodevico is third-year Forensic Science student Shehaira Zaydee Aquino, who brought the first-runner up title to Cluster 3 followed by second-year Accountancy student and SMU representative Justine Faith Maddela who was crowned second-runner up.
Adding to the triumph, the spotlight also fell on second-year Architecture student Nathalie Kaye Dasigan who represented Mercancia Baratta and Jehaven Tea & Coffee Bayombong, and Cluster 5 representative Jamaica Peace Valdez from SMU Senior High School, who both secured spots among the top 10 finalists.
Congratulations, queens. The Marian community is proud of you!
Words by Marielle Camonayan
Photos from Dexter Lorenzo Wasin Photography
Layout by Princes Diana Maniquis
Please follow and like us: