SMU tops Psychometrician boards in region; Marian places 9th in nat'l level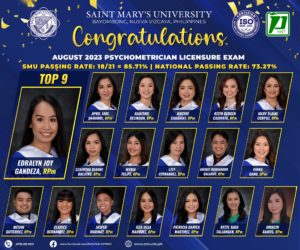 Saint Mary's University (SMU) is named as the top performing psychometrician school in Cagayan Valley with an institutional passing rate of 85.71-percent registering 18 new Marian Psychometricians, results released by the Professional Regulation Commission showed.
On top of that, Marian alumna Edralyn Joy Gandeza, RPm, landed Top 9 at the national level with a passing rate of 87.40-percent.
In an interview, Gandeza revealed that she dreamed to be a topnotcher but did not expect that it will come true.
"Di ko naman talaga inisip mag-top noong una kasi 'yong pumasa at magkalisensya, okay na 'yon. Actually, nag-enroll ako ng review center para pumasa, but then mai-inspire ka talaga to dream for more, kaya pinangarap ko rin maging topnotcher kung kakayanin," Gandeza said.
Along with Gandeza, the 17 new Psychometricians are as follows:
April Jade Banawol, RPm
Radzenie Belingon, RPm
Czaeryna Dianne Bulatao, RPm
Keith Bergen Casiraya, RPm
Mary Elaine Corpuz, RPm
Myria Flor Felipe, RPm
Lely Fernandez, RPm
Andrei Dominador Galamay, RPm
Rikka Gano, RPm
Melvin Gutierrez, RPm
Clarice Hernandez, RPm
Jasper Marinay, RPm
Jeza Vilia Marquez, RPm
Patricia Danica Martinez, RPm
Kyzyl Shen Tallongan, RPm
Jonalyn Rico Ramos, RPm
Jenchie Cabbigat, RPm
Meanwhile, there are two Marian alumni now registered psychologists and they are as follows:
Stephanie Eira Aduca, RPsy
Chantal Therese Tayaban, RPsy
The August 2023 boards has 6,133 passers out of 8,370 takers or 73.27-percent national passing rate.
Report by Nikka Angela Caddawan
Please follow and like us: