SMU Alumnus made it in Procter & Gamble Philippine Business Services, Inc.
Mr. Marc Wendel T. Rivera is our first alumnus to be featured in our "Marian Yan!" series, showcasing graduates of Saint Mary's University for the past 5 years who are employed in their respective fields. He graduated with the degree Bachelor of Science in Accountancy (BSA), Class of 2020.
During his student days, Wendel was known first and foremost as a passionate student leader focused on advocacies like upholding students' rights and caring for the environment. For these and more, he was elected as Governor of the School of Accountancy and Business Central Council; and eventually as President of the Student Central Council, leading thousands of college students into such impressive undertakings as the university intramurals, the first-ever student film-festival, and the 2020 CICM Meet, among others.
In a talk with Wendel, he revealed that he belongs to only 1% of the applicants from his batch to be accepted as part of Procter & Gamble Philippine Business Services, Inc., where he is currently connected as the Tax Analyst of the India Tax Compliance Organization: proof that the Marian culture of passion for leadership and dedication to academics help our alumni reach for their dreams.
Wendel shares, "'Inspired by Mission, Driven by Excellence' – It is with my leadership skills, mission, dedication to serve and commitment to excellence that made me stand out from other applicants in P&G. I tried my best to live in the university with integrity and honesty translated to doing the right thing, which is the core of P&G's purpose, values and principles."
The Alumni Affairs Office wishes Mr. Rivera the best in his first job!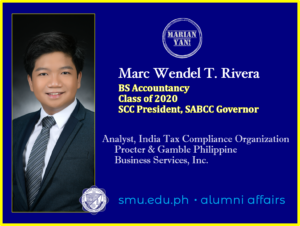 "I took the way that is less traveled and it brought me here.
Thank you SMU thru Alumni Affairs Head- Sir

Sherween Jerry Paul

for recognizing this milestone of mine. And to all who took part of honing me in the university- both in leadership and academics (though I cannot mention one by one because I'm afraid to miss names)- I know you by heart, I'm grateful to all of you.
I love you all
"
Watch Now – Launch of SMU's Emblems
Recent News