3 Marian studes top reg'l contest against drug abuse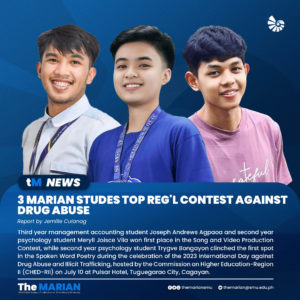 Third year management accounting student Joseph Andrews Agpaoa and second year psychology student Meryll Joisce Vila won first place in the Song and Video Production Contest, while second year psychology student Trygve Bongayon clinched the first spot in the Spoken Word Poetry during the celebration of the 2023 International Day against Drug Abuse and Illicit Trafficking, hosted by the Commission on Higher Education-Region II (CHED-RII) on July 10, 2023 at Pulsar Hotel, Tuguegarao City, Cagayan.
Other Marian representatives were second year architecture student Nathalie Dasigan and third year education student Beatriz Liban for Poster Making Contest and Quiz Bee, respectively.
According to CHED-RII, the event aims to create a safe learning environment and establish mechanisms to fight illicit drug abuse, institutionalizing relevant policies on random drug testing for students, and an initiative that recognizes the roles of public and private sectors in solving the drug problem in the country.
Report by Jemille Culanag
Please follow and like us: