SMU-HTM Reaps Awards from the 16th Annual HRT Week and 14th National Food Showdown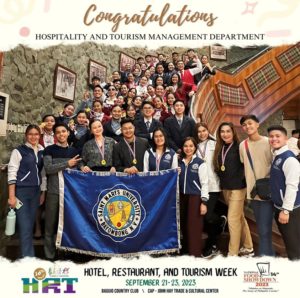 Saint Mary's University has once again proven its commitment to excellence in the world of Hospitality and Tourism. With SMU's Hospitality and Tourism Management (HTM) department's participation to the 16th Hotel, Restaurant and Tourism (HRT) Week, and the 14th National Food Showdown from September 21 to 23, 2023 in Baguio City, the delegation of around 50 students were able to successfully reap several awards.
Over the three-day event, the talented and smart students across different year levels, as coached by their professors and invited Alumni practitioners from the industry, showcased their skills and passion in the different challenging contested events revolving the varied areas of hospitality and tourism management. Despite the intense competitions where equally very good HTM schools in the Philippines participate from the professional and student divisions, the SMU-HTM delegation efficiently managed to garner several awards. All the entries were carefully prepared for, aligned on the event's theme which is, "Malakas at Maganda": The Surge of Philippine Cuisine. Apart from the competitions, several seminars were also attended by the students together with the accompanying Instructors/Coaches. This event is organized by the Hotel & Restaurant Association of Baguio (HRAB) where Saint Mary's University is an active member as manifested by its regular participation to the contested events and organized seminars.
In detail, Saint Mary's University has brought home one (1) Gold Medal (Highest Pointer), four (4) Silver Medals, 11 Bronze Medals, and five (5) Diploma Awards and these are as follows:
Professional Division:
WEDDING CAKE (SILVER- Highest Pointer)
JESUSA ANA MARIA F. JACALNE, HTM Faculty Member
ARXEL REIGH A. CATUBAY, BSHM Alumnus
JOEY C. PASCUA II, BSHM Alumnus
Student Division:
TRAVEL AND TOURS (GOLD- Highest Pointer)
JESICA SARA DV LONGINOTTI
CHRISTIAN DAVE R. MENGUIS
TRAVEL AND TOURS (SILVER)
JESUSA GRACE P. DELA CRUZ
ALEXA LEI A. PUMARAS
TABLE NAPKIN FOLDING
MARY ANGELA L. GAMIDO (SILVER)
BRENETH S. NAPUDO (SILVER)
EVENTS PLANNING (BRONZE)
SHANE B. DONATO
ZHEKAINAH MARVI A. SORIANO
MIKEE ANGELIQUE FLORENDO
PILAR KHAETREEN F. ANTONINO
TRISTAN JAY C. CABREROS
BELLMAN'S HOUR
JOHAN XIAN G. TUMANENG (BRONZE)
ALMYRA JOY B. GARCIA (BRONZE)
CREATIVE CAKE DECORATION (BRONZE)
THALA ANGELIC M. CASTILLO
JAN CYREL JOY J. COLLADO
ALLEN JOY N. BERNALES
PRALINES (BRONZE)
RHIANA MASHIELLE E. INFANTE
KLASIKA MODERNA KULINARYA (BRONZE)
ALEENA JAINE A. GAMBOA
MA. ALETHEA DAPHNE B. FIESTA
MODROW PIERRE RICO BANCOD
PASTA AND SAUCE SHOWDOWN (BRONZE)
APRIL MAE P. VIERNES
MARCELITA A. DOMINGO
COCKTAIL MIXING
DESIREE E. ROLDAN (BRONZE)
JMORE B. CHAROG (BRONZE)
MOCKTAIL MIXING
SHYNA L. DELA CRUZ (Finalist)
GIAN CARLO E. BARBOZA (BRONZE)
PANGHIMAGAS – KAKANIN FLAMBE' – (BRONZE)
BABY CAKES (DIPLOMA AWARDEE)
RHIANA MASHIELLE E. INFANTE
BEST TRADITIONAL/MODERN REGIONAL RECIPE PINIKPIKAN (DIPLOMA AWARDEE)
JOHN AIDAN P. CABANAG
HYDRIAN P. ESTIMADA
REGIONAL FRUIT JAMS AND PRESERVES – BAGUIO BERRIES (DIPLOMA AWARDEE)
MA. KHURT NICOLE T. EVANGELISTA
WEDDING CAKE (DIPLOMA AWARDEE)
LHENZEL JOY P. RACIMO
KRYSTEL NATALIE B. PASCUA
JEMIMA FAYE V. ANDRES
REGIONAL PICA-PICA (DIPLOMA AWARDEE)
HRT QUIZ BEE (Finalists)
SHANE B. DONATO
ROSE ANN D. SAN ANDRES
NICOLE ANN A. BELMIL
JASMINE CLAIRE R. PANGANIBAN
ROELLA GRACE U. CAOILE
REINER T. JOSE
COFFEE CONCOCTION (Finalist)
ZYMONE ANJELO E. CASTILLO
EUGENE CHRISTIAN A. QUINTO
Coaches/Experts:
JOHN MICHAEL C. IBARRA
MRS. JESUSA ANA MARIA F. JACALNE
WINDELL MARIE M. COLOBONG
MARK IAN J. SORIANO
MAYVELYN S. COVITA
SHERWEEN JERRY PAUL V. SAQUING
GEORGE RAWSON A. GUIAB
ANA VICTORIA CELESTINE R. BELEN
CHEF ARXEL REIGH A. CATUBAY, BSHM Alumnus
CHEF JOEY C. PASCUA II, BSHM Alumnus
NEIL ALDRIN S. CACAL, BSHM Alumnus
SHERWIN JUMHEL C. MARZAN, BSTM Alumnus
MARIA DHESZ CARPO-MURILLO (OWNER/MANAGER MARIA COFFEE)
Report by: Dr. Mayvelyn S. Covita, HTM Faculty Member
Please follow and like us: