A Marian's Journey in Getting the ASIA YOUNG DESIGNER'S AWARDS
The Asia Young Designer Awards (AYDA) was first launched in 2008 to inspire students to be more innovative, creative, and socially involved, thus motivating us to a higher degree of professionalism. Upon hearing about this competition from my classmates, I saw an opportunity to put my ideas into practice.
With this year's theme, "Converge: Pushing the Reset Button," I designed a housing community that evolves with users' needs. With the title "NAYON: An Incremental and Co-Housing Development," I developed my idea into a proposal that would stand out from other entries. I brainstormed various concepts with the help of my mentor Architect Rino Gumayagay, narrowed them down, and presented a design that showcased my vision. My journey began from January 2023 to March 11, 2023.
Participants were required to submit 3-4 entry boards, complete with a design statement and perspectives. After submitting my entry, I anxiously waited for the results. Weeks passed, and finally, I received a call from the organizers – I was selected as part of the Top 10 Architecture finalists in the country. They asked me to present my design in Manila to a panel of judges.
The actual presentation day was intimidating as it was exciting. I had worked hard to create my project and was determined to do my best. Surprisingly, the judges and other student finalists were very encouraging and supportive. After the presentation, I felt a sense of accomplishment that I hadn't felt before. I knew I had done something special and was grateful for the experience.
After a week, the finalists were all invited back to attend the awards ceremony alongside our parents and mentors. When they called my name as the Silver Awardee, I was filled with overwhelming joy. I was grateful that all my efforts paid off with the support I received from my friends and mentor. It was a fantastic experience, and I felt proud to be recognized for my work.
Since then, I've been motivated to create a design that aims to make a difference. It's been a long and exciting journey, but I was thankful for the chance. I hope to inspire other architecture students to take this opportunity and have their design ideas heard and seen.
The Top 10 finalists for AYDA Philippines 2022 came from different schools of the Philippines, as follows:
For the Architecture Category (in no particular order)
Aldrich D. Remot, Mapua University
Aron Joshua C. Anat, Far Eastern University
Erano Joshua B. Rivera, Technological Institute of the Philippines – Quezon City
Franc A. Obguia, Cebu Institute of technology – University
Ivie Gail U. Dela Cruz, Bulacan State University
John Mark A. Lopez, Bulacan State University
Kryselle Anne C. Ocon, Far Eastern University
Mark Jester H. Jamero, University of Mindanao
Paolo s. Agua, University of Mindanao
Reynald M. Sabanal, Saint Mary's University- Bayombong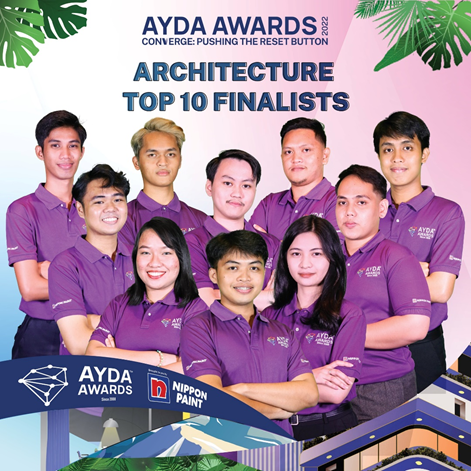 Please follow and like us: