Marian studes place 2nd, 3rd runner-up in reg'l cyber challenge
Saint Mary's University's teams from fourth year Information Technology students won second and third runner-up in the HackForGov Cyber Challenge 2023 Regional Qualifying Round organized by the Department of Information and Communications Technology (DICT) Region II held at NGN Hotel, Tuguegarao City, Cagayan last Aug. 11, 2023.
The first team was composed of Sherwyn Garces, Darynne Keith Asis, David Cabrito and Geraldine Manuel who earned second runner-up, while the second team was formed by Nyzuz Joseph Damaso, John Axel Cortez, John Carlo Macalalay and Jerkine Meryl Nastor who clinched third runner-up. Both teams were coached by Dr. Adonis Garces.
Report by Ronn Louie Pascua
Pubmat by Aubreigh Daculug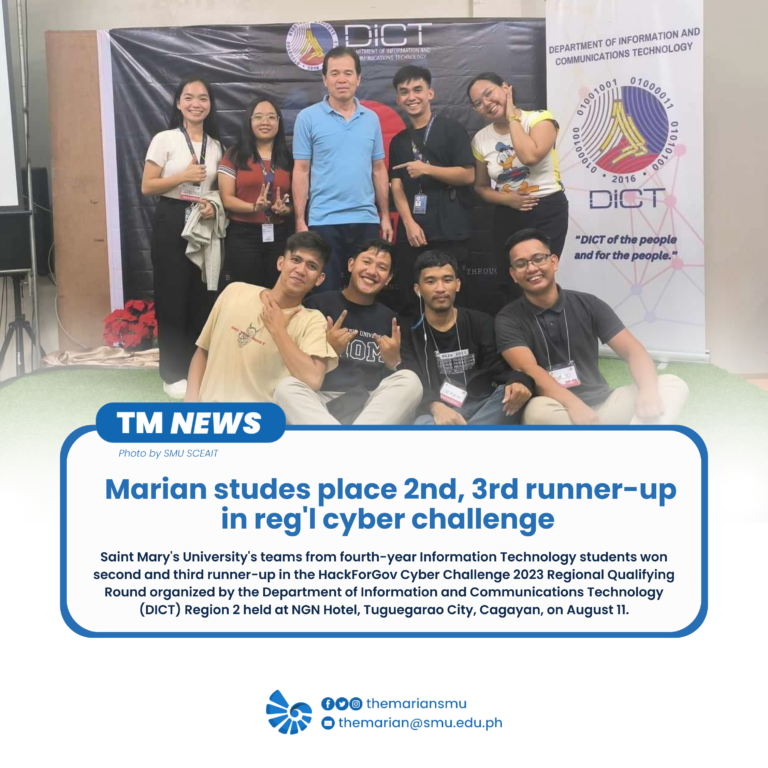 Please follow and like us: