SoGS's Business and Accountancy Cluster Collaborates with SAB, SHANS-CNS, SEAIT-TTBDO and LMCDAC for Extension Engagements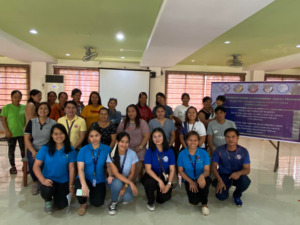 Apart from instruction and research, community extension is another equally important area where the School of Graduate Studies needs to focus on as well. With this, the Business and Accountancy (BA) cluster collaborated with the School of Accountancy and Business (SAB), the School of Health and Natural Sciences' (SHANS) Center for Natural Sciences (CNS) and the School of Engineering, Architecture & Information Technology's (SEAIT) Technology Transfer and Business Development Office (TTBDO) for an extension activity conducted on September 30 and October 1, 2023 at the Georges de Busschere Hotel-Laboratory. The Lingkod Maria Community Development and Action Center (LMCDAC) is the mother unit of the university-wide extension engagements thus through its Director, Dr. Christopher Allen S. Marquez, he supervised the deployment of the activity with SAB Extension Coordinator Mrs. Rodora P. Tipay.

The BA Cluster's involvement includes the provision of seminars on "How to Start a Business" and the "How to Market a Product: The Ps of Marketing". The students from the courses Advanced Studies in Entrepreneurship (COM 338) and Marketing Management (MMBA 203) facilitated the preparation and the delivery of the essential information as earlier mentioned. These seminars, falling under the Graduate Initiatives for Trainings, Empowerment and Development (GIFTED) Program of the SoGS complements the Livelihood and Skills Training extension activity of the SAB where a demonstration and return demonstration on wine and vinegar making on September 30, and Chayote Squash Pickles on October 1 were conducted at the Georges de Busschere Function Hall and Kitchen Laboratory respectively. Trainers were Mr. Robert S. Aceret from the CNS and Mr. George Rawson A. Guiab of the HTM Department, SAB. Beneficiaries for the wine and vinegar making where identified constituents from Sitio Masina of Bagabag and members of the TIBIK, Inc. (Timpuyog Iti Babbalasang Idi Kalman) whereas for the Chayote Squash Pickles were from Gonggongob of Villaverde. In this extension endeavor, the selection of what projects to provide groups of beneficiaries by SMU was born out of initiatives from the LMCDAC, wherein in needs assessment and analysis, several visits and dialogues with the community took place as early as 2021 to craft an appropriate developmental project that would hopefully provide a sustainable livelihood for the target beneficiaries. Thus, justifies the specific skills and livelihood training conducted.

Apart from the beneficiaries for whom the activities were prepared for, present on the two-day event were faculty & staff  and student leaders from SAB, SoGS's BA cluster faculty with students, CNS Director, Faculty and Staff and the LMCDAC Director. Speakers for the seminars were Mrs. Angela C. Garra and Ms. Sheryl A. Baria both PhD Commerce Students and Mr. Neil Jansen O. Reginalde and Ms. Lovely Grace M. Paulino, both MBA students. Their professors Dr. Harrison T. Villanueva and Dr. Mayvelyn S. Covita were also present on the activity.
Please follow and like us: