Mr. Wilson R. Manuel, Jr. is another alumnus to be featured in "Marian Yan!" series of SMU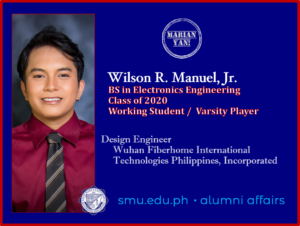 Mr. Wilson R. Manuel, Jr. is another alumnus to be featured in our "Marian Yan!" series, showcasing graduates of Saint Mary's University for the past 5 years who are employed in their respective fields. He graduated with the degree Bachelor of Science in Electronics Engineering (BSECE), Class of 2020.
His is a story of struggles and triumphs, of faith and perseverance.
Growing up in humble beginnings, Wilson lost his mother while he was in college, and, for some time had an absentee father – obliging him to fend-off for himself and his brother. When he reached out to the Alumni Affairs Office for his clearance today, July 12, he shared that he had to be a working student at the Multi-Media and Technology Section of the University Learning Resource Center (ULRC) for 4 years just so he could finish college. He also got involved in sports (football and basketball), from which he got some tuitional discounts; so, he had to juggle his time and concentration in his studies while being a working student and a varsity player. But these only supported his school fees. So, in the midst of his already busy schedules balancing work in school and academics, he also had to work in a fast food restaurant for his daily needs. He recalls how challenging it was for him to do graveyard shifts (10 PM to 6 AM) then take an exam the or attend to his thesis afterwards. Wilson is also a recipient of the kindness of an alumnus, Dr. Christopher Guerrero, whom he accompanies in his medical mission every time he (Dr. Chris) would come home from Chicago.
"When our mom died and our father left us, leaving school was not an option. I realize that the way for our family to escape from poverty is to have a good education. Thanks to my mentors who always encouraged me to persist and stay focused, I remained faithful in God's providence; and I am proud to say that my orientation as a library working scholar in SMU is the same work ethics I shall bring to my new job."
This August, Wilson's name shall be announced in the virtual commencement exercises of SMU. But he did not have to wait for his graduation; for tomorrow, July 13, he is set to leave for the City of Makati so he could start working as Design Engineer in Wuhan FiberHome International Technologies Phils., Inc.
Wilson's is the story of so many other Marian graduates who availed of the scholarships and grants at SMU. With these mechanisms of support offered, a strong determination to succeed, and inspiration to improve family circumstances, many alumni have emerged successful and comfortable, now doing their part to make this world a better place to live in.
The Alumni Affairs Office sends its best wishes to Mr. Manuel, a Marian Ambassador, driven by mission and inspired by excellence.
Watch Now – Launch of SMU's Emblems
Recent News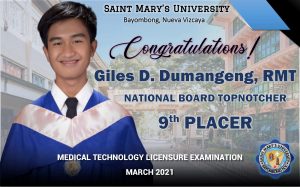 Please follow and like us: