Rodny Giverson V. Garcia is another alumnus to be featured in our "Marian Yan!" series
Rodny Giverson V. Garcia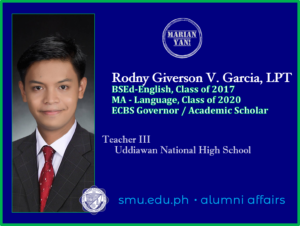 is another alumnus to be featured in our "Marian Yan!" series, showcasing graduates of Saint Mary's University for the past 5 years who are employed in their respective fields. He graduated with the degree Bachelor in Secondary Education (Major in English), Class of 2017; and earned his Master of Arts in Language degree in 2020.
In his college days, Rodny was one focused student who was of the house-school-house routine. He considers his leadership in the then Education Central Board of Students (ECBS) as a welcome respite amidst the academic demands of his course. Not surprisingly, his efforts as a consistent academic scholar paid off, as he graduated Cum Laude and a Likha Awardee for Research in 2017, and earned his Master of Arts degree (Cum Laude) 3 years later. Recently, he was seen presenting research papers in conferences of the Linguistic Society of the Philippines (LSP) and the Philippine Association of Language Teachers (PALT).
"It didn't occur to me that I'd actually pursue teaching. It was not my first choice in college and it did not sit well with me at first. However, it was when I engaged in practice-teaching that I realized I have the ability to guide young minds and learn from them as well. From this experience and the insights I gained from my charismatic teachers, it was clear to me that I took a road that makes all the difference; and the smiles from my students are more than enough to tell me that I'm doing great in my job."
At Saint Mary's, we do not only teach in the classrooms and in the laboratories. We allow our students to learn from pre-employment exposures, immersions, and encounters like: practice-teaching (in-campus and off-campus), on-the-job trainings, practicum, affiliations, apprenticeship-by-experience, work and travel programs, or internships. Our students are assured that all our partner agencies from both the public and private sectors allow our graduates to have a first-hand glimpse of the industries and disciplines they are being prepared for. SMU partners only with the most reputable and credible institutions in the Philippines and abroad to optimize the quality engagements they have prior to graduation. As is often the case, our graduates are employed by the agencies where they had their pre-employment programs.
In the case of the School of Teacher Education and Humanities, SMU entered into an agreement with the Department of Education (Division of Nueva Vizcaya) so our students can have off-campus practice-teaching in any of the DepEd schools. Rodny had his off-campus practice-teaching in Bagabag National High School, and he is now connected with Uddiawan National High School as Teacher III and adviser of its school paper.
The Alumni Affairs Office extends its best wishes to Mr. Garcia, a Marian Ambassador, inspired by mission and driven by excellence.
Watch Now – Launch of SMU's Emblems
Recent News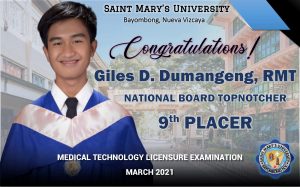 Please follow and like us: